Portugal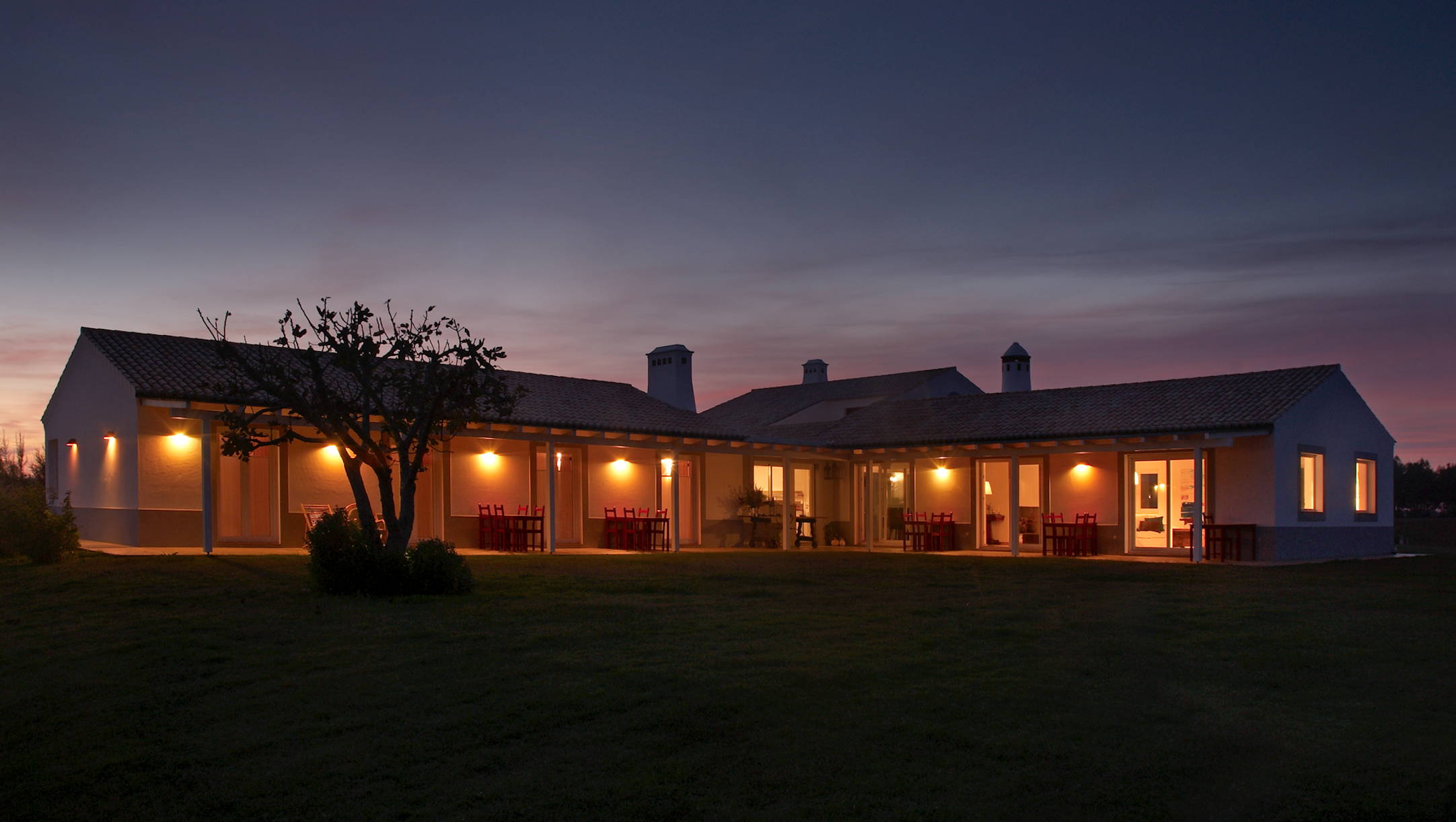 Cocoon is a 275 acre farm situated on the breathtaking Atlantic coast of Portugal.
It is minutes from the simple fishing village of Zambujiera do Mar, in the Alentejo region, which is known for its long stretches of untouched coastline, and charming white-washed villages.
From Lisbon, Coccon is around two hours drive south (from Faro, Cocoon is slightly closer).
Cocoon is located in the coastal Alentejo region. Also known as The Costa Vicentina, much of the Southwest coast of Portugal is protected by a natural reserve. This means that development stays constrained, with traditional architecture + small farms dotting the land. The nearest town is the charming Vila Nova de Milfontes. The Vicentine Coast Natural Park runs about 100 km down the coast. The preserved nature has a strong + wild character here, creating landscapes of breathtaking majesty. The coast is ideal for swimming, surfing, and world-class hiking along the gorgeous sandstone bluffs.
Conde Nast Traveller recently wrote about this up & coming area, a place where people like Carli Bruni & Christian Louboutin come to escape.
---
11 bedrooms, 10 bathrooms. There are single, double, and triple rooms. 8 rooms have en-suite bathrooms, the remaining 3 rooms have shared bathrooms.
---
All meals are included and the meals are incredible, including strong coffee, herbal tea and spring water
We believe that a nourishing meal and a delicious feast don't need to be exclusive of one another. Our food is local, with most of our produce coming from either our property or a nearby farm.
---
The indoor shala is light filled and has enough windows and doors for the air to circulate freely. The floor is hand-made traditional Portuguese Santa Catarina tiles, which are both beautiful and a joy to practice on.
The larger outdoor shala has wood floors, and is shaded by a handful of old growth pines. The outdoor shala has no walls, and is a 3-5 minute walk from the house. It's especially wonderful for morning practice, as the fog rolls in.
---
Plenty of indoor + outdoor space to chill, read a book, or have an intimate conversation. The pristine, freshwater lake is perfect for a swim!
---
The fabulous Praia do Cavaliero, with it's sandy beach, is 12 minutes drive.
Highlights
Focus on how to reconnect with yourself

and how to nurture self love

7 nights in beautiful, comfortable accommodation

Delicious food and drinks (no alcohol) all included

Indoor and outdoor shalas (under the canopy of pine trees)

Suitable for all levels, minimum age 16

Plenty of indoor and outdoor space to chill, relax, read a book or have a snooze in the shade

By a pristine, freshwater lake (yes you can swim in it), and the kind of hammocks you dream of…

15 minutes' drive from a fabulous untouched beach, perfect for hiking, swimming or sunbathing
Food
From a sustainability standpoint, we choose not to serve red meat. We do serve eggs from our chickens, locals cheeses, and occasionally wild-caught Atlantic fish. A typical breakfast includes eggs, local fruit, Greek yogurt, homemade granola, local honey, homemade jam, slow-rise bread. Lunch is often a bowl; a base of ancient grains like farro, topped with avocado, roasted veggies, nori, or mixed greens. For dinner, expect Indian + Japanese curries, Mediterranean stews, legumes, rice, salad and dessert. We also have an outdoor, wood-fired Pizza oven.
Rooms
Single Occupancy - 1 Available
Cost: £2016 Per Person - 7 Nights
Double Occupancy - 12 Available
Cost: £1540 Per Person - 7 Nights
Triple Occupancy - 12 Available
Cost: £1190 Per Person - 7 Nights
Travel (note: Flights & Car Hire are not included).
We'd recommend booking a flight from East Midlands Airport to Faro:
14th August 06:55am - 9:45am FARO with Rynair. £154 Per Person Return.
The return flight is 10:15am FARO you arrive back in the UK 13:05 East Midlands Airport on Saturday 21st August.
Car hire is required driver must be aged between 25-75, car hire for the whole week is around £96. We'll suggest grouping together and splitting the cost before everyone arrives in Portugal.
---
There are two options for purchasing your space on this retreat (see below):
1: Pay in full to secure your space straight away.
2: Payment plan, £200 deposit followed by a payment plan spreading (remaining balance) across the agreed term.
Usually the amount of months left before the retreat begins.
Payment plan will be sent via email when the deposit has been purchased.